The Next Generation of
Morgan & Morgan Polled Hereford
Sires
We are excited about these two exceptional young herd sire additions and confident that each will improve our breeding program.
The first calves from these outstanding up-and-coming herd sires instantly catch the eyes of our visitors. In addition to the eye appeal, these two bulls are backed by pedigrees that are generations deep with superior maternal traits and impressive carcass and growth EPDs, while maintaining calving ease and birth weight EPDs.
We invite you to stop by the farm to see these two young herd sires and their offspring.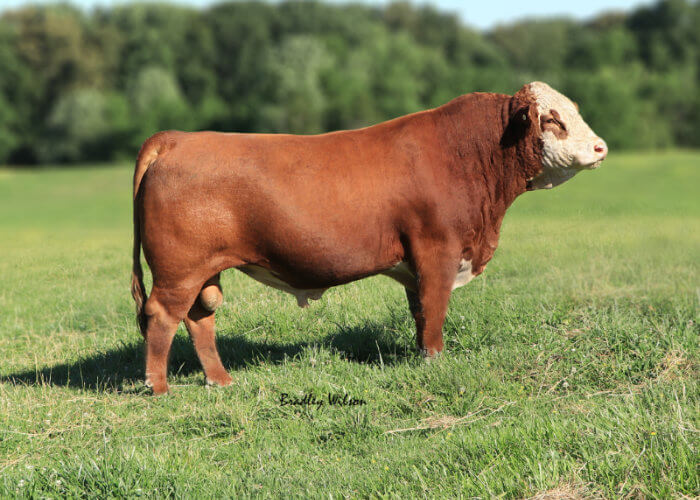 Calved: 10/3/2016 Reg: P43757688
Actual BW 76; Adjusted WW 813
Individual Ratios: 114 WW, 105 YW, 101 IMF
An impressive young herd sire with full and complete pigment on both eyes and dark pigmentation to the ground
Moderate frame with lots of thickness and volume and great disposition
Calves are heavily muscled and easily spotted with their pigmented eyes and dark color
Top tier in terms of performance, carcass and $ Indexes
Dam and granddam are heavy milking cows
One of his first son's on the farm just weaned at an impressive 635 lbs
Calved: 2/13/18 Reg: P43943790
Actual BW 77; Weaning weight 583
Individual ratios: 111 WW, 107 YW
Breed-leading birth-to-growth spread
Homozygous polled
Royally-bred and dark-red with 100% pigment in both eyes
His awesome young dam is a favorite of Paul Bennett at Knoll Crest Farms (VA) and is out of Tested X651 from Ellis Farms (IL)
His dam posted remarkable individual ratios of 110 WW, 112 YW, and 119 REA
Sired by KCF Bennett Provident B284 and his breed-leading EPDs
We're anxiously awaiting the arrival of his first calves
Impressive 11 EPDs currently ranked in the top 10% of the Breed.
Calved: 03/09/2019 Reg: P44003503
Actual BW 94; Adjusted YW 1369
Individual ratios: 112 WW, 115 YW
This young homozygous polled herd sire is out of Sandhill Farms' bull Everstone, and a grandson of KCF Bennett Encore Z311
This up-and-coming young bull has an impressive eight traits in the top 10% of the herd, including WW, YW, SC, MM, M&G, Fat, REA & CHB$
Without a doubt, Gallivant will put pounds on his calves for you at weaning or harvest with a trait-leading CHB$
13095 Scottsville Road
Alvaton, KY 42122